CMR is the leading provider of funding and management support for small to medium-sized businesses and entrepreneurs
Established 1984 C

MR is the leading venture capital, management support and business services provider for small to medium-sized businesses - linking excellent management skills with the substantial financial resources of a global bank of private investors.

CMR has over 450 senior executives, operating in the UK, USA, Europe, Asia, Australasia and globally, providing both funding and specialist help for entrepreneurial businesses.
For Businesses CMR provides excellent resources:
CMR FundEX Business Exchange - gives all companies & entrepreneurs direct access to CMR's global investor base.
CMR Catalyst Group Programme - transform profitability through merging.
CMR Company Sales Division helps owners to exit at the best price.
CMR Corporate Recovery Division - experts in rescue and turnaround.
CMR Technology Licensing Division - commercialising innovation.
CMR Executive Professionals - management support and consultancy.
CMR Executives-on-Demandâ"¢ Fully experienced senior executives available quickly and cost effectively.
We always welcome contact with new business clients- please get in touch - we will do our best to match your needs and exceed your expectations.
For Investors
Preferential access to new opportunities for investment and/or acquisition

P

re-vets propositions and provides a personalised service to our investors

Syndication service enabling investors to link together as desired

Executive and management support for investments as needed

CMR's services to our investors are not only fast & efficient but also free
We always appreciate new members- you are welcome to join as an investor or as a CMR Executive.
When you join us as a Senior Executive:
CMR's strength is in the skills and experience of our executive members - all senior, director level people with years of successfully running and managing companies.
Because the demand for CMR's support and services is ever-increasing, especially as we enter recessionary times, we have a growing need for more high calibre executives to join us from every industry and discipline.
You will be using your considerable experience to help smaller businesses and entrepreneurs to grow profitably.
We offer full training and mentoring support to help maximise potential.
We are always keen to find more high calibre senior executives in all areas- skills and location. Make contact with us today and maximise your opportunities.
HEAD OFFICE

Kemp House, 152-160 City Road

London EC1V 2NX

Tel: +44 (0)207-636-1744

Fax:+44 (0)207-636-5639

Email: cmr@cmruk.com

Also Glasgow, Dublin, Switzerland, Europe, USA/Canada


Senior Executives
CMR is a worldwide network of senior executives. Join us to expand your career and business horizons.




Business Entrepreneurs
CMR has a complete range of resources & services provided by experts to help all businesses to grow and prosper.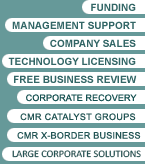 Investors & Venturers
CMR has a continuous stream of business and funding propositions, which are matched to investor preferences. Join us - it's FREE!




FundEX
FundEX is CMR's worldwide stock market for small to medium sized companies and entrepreneurs to raise new capital.




Interim & Permanent Management
Many of CMR's executives can be recruited on an interim, permanent or NED basis.





Login

Main CMR Intranet

members only

Regional Intranets